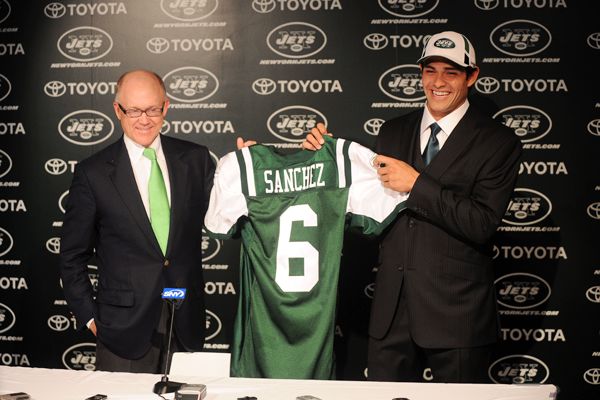 Mark Sanchez you are immediately on the clock.

New York Jets made a big move on draft day trading three players and two draft picks to move up to sixth in the draft selecting USC quarterback Mark Sanchez. It was hefty trade for the Jets hopefully it will pay off big time. But what if he doesn't pan out? Sanchez is under more scrutiny than Matthew Stafford. He's playing in the largest media region along one of the largest latino/hispanic population. It's also a fact Jets sent two draft picks along with three players to the Browns. Where that leave the Jets in next year's draft? Three draft picks minus compensation. That's how much Sanchez trade cost them. Building toward the team's future look bleak and it will be bad if Mark Sanchez didn't materialize like he's projected. It also the risk of taking a USC quarterback which are a hit or miss.

- Matt Leinart. Drafted 10th overall by the Arizona Cardinals and heir apparent to Kurt Warner. Started off well then suffered a season ending collarbone giving way to Kurt Warner start. Warner hasn't relinquished the starting roll and Leinart sits on the bench. Oh yeah Warner guided the Cardinals to the Super Bowl. Leinart still has lot of time to improve.

- Carson Palmer. Drafted 1st overall by the Bengals and sat on the bench in his rookie season. Given the start the following season he started ablaze with three Pro Bowls and leading Bengals to their first trip to the playoffs in almost 15 years. Lately he fizzled and battled injuries. Hopefully his arm/elbow will be healed in time for 2009. Jury still out on him

- Todd Marinovich. Drafted 24th overall by the Raiders he lasted two seasons where he spent most of the time on drugs. Bust

- Rob Johnson. Played nine seasons with Jaguars, Bills, Buccaneers, Redskins, and Raiders where he started most of his games with Bills. He gave them misery with fans wanting Doug Flutie back as starter. Miss

- Matt Cassell. He only played one full season after starter Tom Brady went down. Leading the team 11-5 season. Will get to start full-time as he was traded to the Chiefs. Jury out of him based on how well he does in Kansas City.

Hopefully Matt Sanchez become a future star and the franchise player of the team. If not, its gonna be misery to Jets fans.

Besides as a Jets fan I feel it was too much to give up to move and take Sanchez.